RBCHS CURRENT MODEL OF INSTRUCTION
RBCHS Full In Person
(Effective 04/09/2021)
IDPH UPDATED GUIDANCE FOR SCHOOLS
COVID - 19 PARENT INFORMATION
RBCHS ROAD MAP TO REOPEN 2020-2021
District 157 created this webpage to provide critical communication related to the impact of COVID-19 on our school community and our reopening plan. See below for current health metrics that help the district make informed decisions about appropriate learning models given current conditions related to the pandemic. The links at left provide additional resources for parents/guardians. Here, you will find District 157's COVID Counts Dashboard and our "Roadmap to Reopen" which details District 157's commitment to educating our students in a safe and healthy environment. D157 is in regular communication with the McHenry County Department of Health. You can find more information in the MCDH Interim Guidance for Schools documentation. For zip code specific data regarding our communities COVID-19 numbers, you can visit Northwestern University's Covid-19 Dashboard.
District 157's and District 2's Local Data to Consider When Opening or Closing Schools
In addition to the state and county metrics, the district takes into consideration the following data before closing or opening a school:
The readiness and fidelity of the district's mitigation protocols

A high level of confidence that we are not seeing community spread in the school

Our ability to ensure successful contact tracing of all known positive cases

Workforce availability

Substitute capacity

PPE availability and safety protocol information
The following graphic illustrates the movement (progression and regression) through the learning models (Virtual, Hybrid, and In-Person) used in the Decision Matrix. The term "Next Learning Model" is used when referencing the transition from virtual to hybrid and hybrid to in-person. The term "Previous Learning Model" is used when referencing the transition from in-person back to hybrid and from hybrid back to virtual.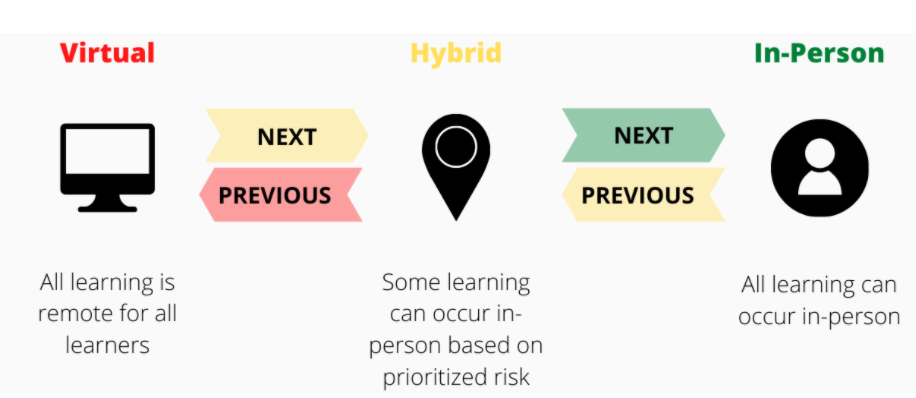 RBCHS Hybrid = Hybrid Model of Instruction (Effective January 19th, 2021)
NORTHWESTERN UNIVERSITY COVID-19 DASHBOARD BY ZIP CODE
This dashboards are a resource to help McHenry County school districts make data-informed decisions about their learning model during the COVID-19 pandemic. Any recommendation by the MCDH to close or open schools must also take into consideration district 157's and district 2's local data as listed above.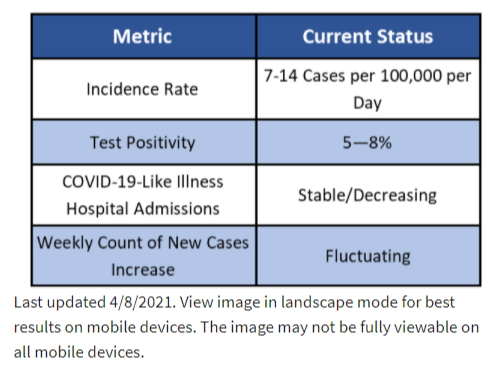 RBCHS DISTRICT 157 CURRENT COVID-19 STATUS
This graph displays the weekly confirmed positive COVID-19 cases within the District 157 and District 2 populations. In consultation with the McHenry County Department of Health, District 157 or District 2 will notify any parent/guardian whose student(s) is considered a close contact in a COVID-positive case. Should this occur, further direction will be provided to families. In order to prevent the spread of COVID-19 we ask that you please cooperate with the school when contact tracing. All information collected by our contact tracers is confidential and crucial to being able to keep our schools open. We ask that you cooperate in this process.
Additional notes:
District 157 students reside in zip codes: 60071 & 60081